How Do You Get There?
Enough teaching for now.
I didn't loan; I gave.
The light glowing mystically around the ruby & sapphire bottles behind the bar.
The song growling.
It wasn't simple or complicated in cafés where our feet were always cold.
It wasn't the lone donkey in the field
or the trace of things to heal.
She has no idea how we got so strong.
How we came to rent a houseboat.
& what kind of boats we are.
Rotting, with tremendous intelligence & sensitivity.
Burning with slips of fortune paper.
Gathering the sounds, hoping the audience isn't allergic to this movie.
Our friends in jail. Taking bags of soil on the train.
We do thank copy machines & computers.
We do kiss house plants.
The skill of tolerating emotional pain,
not expecting a means or an end.
Upstairs at my sister's house,
peers' questions & a sacred place to shine our shoes.
Some call it praying & some call it wrestling.
Battling the wealth-parents—
What was it you thought you wanted?
What was it you thought you had to defend?
---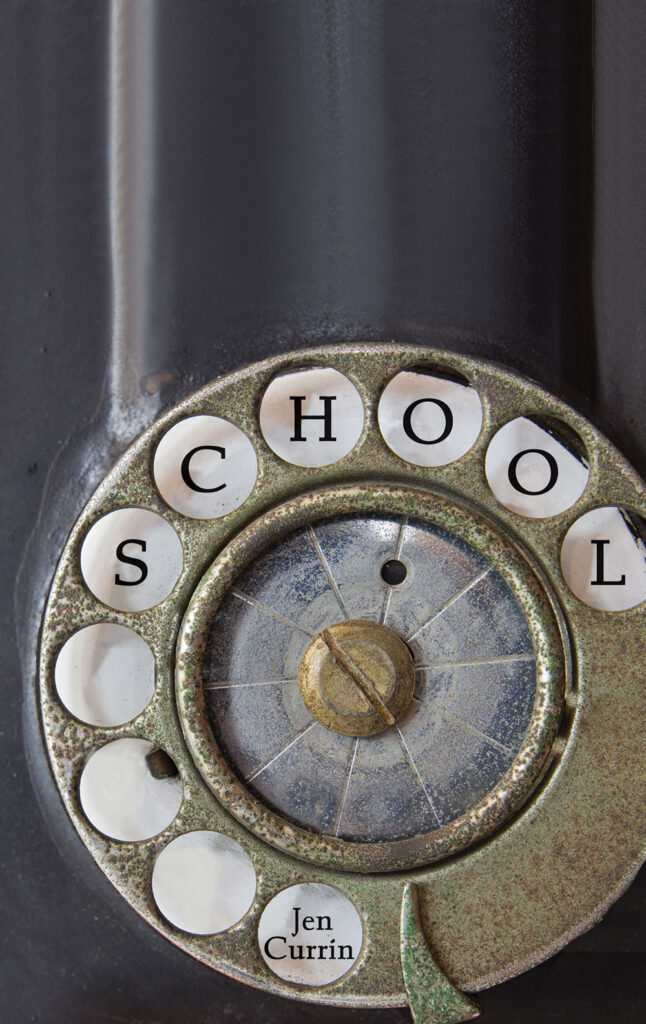 At times a call to action and at others an intimate conversation between friends, Jen Currin's sensual and surreal poems speak to the political upheavals and environmental catastrophes of our time. School is an instruction manual for igniting transformation through a collective effort of love and community.
Shortlisted for the 2015 Dorothy Livesay Poetry Prize (B.C. Book Prizes), the Pat Lowther Award, and a ReLit Award.
---
"Wise, terse, enigmatic, illuminating, like the precious yield of a late harvest, savored grape by grape, these exquisite poems approach narrative yet avoid doldrums, choosing instead the aphoristic path of quietly estranged observation. I love Jen Currin's "voice," which is more of a murmur than a voice—a gentle sequence of indications, microtonally guiding us toward bliss."
Wayne Koestenbaum
"The poems in this compelling book inscribe a tablua rosa, suggesting that it is in consideration of the possibilities of the blank slate, that human freedom begins. In Jen Currin's School every teacher is a form of mimesis, and a form to beware: "there was a joke we heard & a story we liked…But in the end it became his lecture/& we weakly repeated, "How? And Why?" ("The House Choirs") Intent on origin, on passage from an old language to a newer one wherein intuition and dream refuse to be bound by the imposed authority of the sentence, these are poems as moral as they are fierce. A richly accomplished book."
Claudia Keelan